May 30 2021

Retrospect Backup 18: Ransomware Protection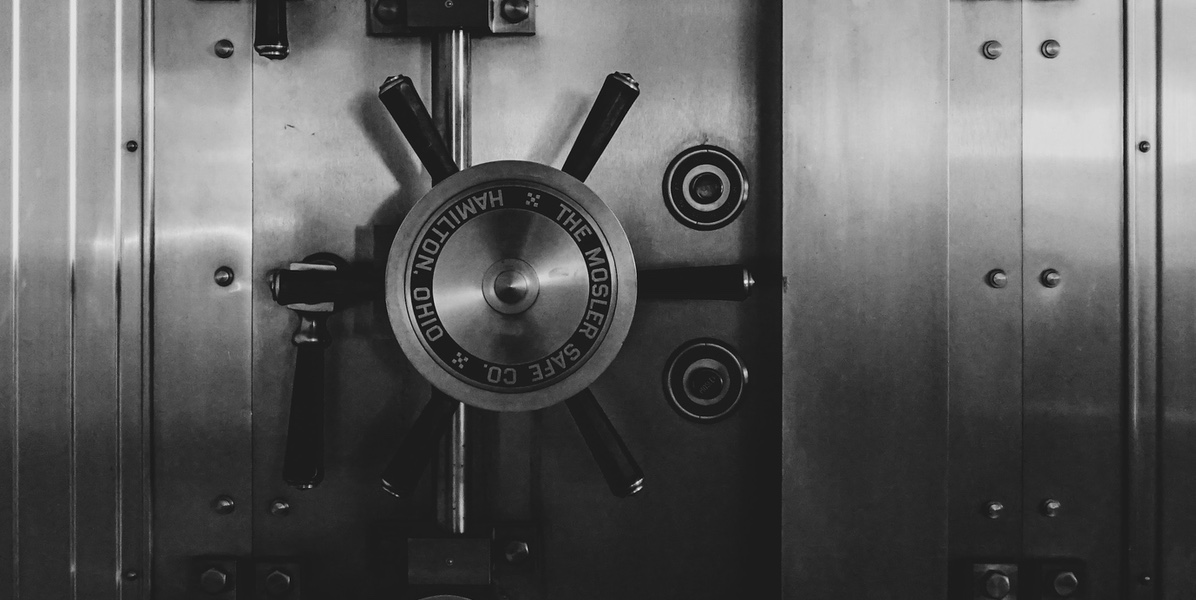 The sophistication of ransomware is staggering, particularly the variants that gain administrator access and then use it to delete backups on-premise and in the cloud. To combat this vector, major cloud storage providers have rolled out a locking mechanism called Object Lock or Retention Policies that enable customers to lock objects for a specific period of time, and not even the administrator can modify or delete the objects during that period.
Retrospect Backup 18 launched last week with ransomware protection. It creates immutable backups by integrating with Object Lock on Amazon S3, Wasabi, Backblaze B2, and MinIO. Customers can specify how long they want their backups to remain locked, and Retrospect will set the associated retention policies for those backups in the cloud.
Moreover, Retrospect uses ProactiveAI's policy-based scheduling to predict when a backed up file will be out of policy, include it in the next incremental backup, and delete out-of-policy backups that are no longer required, ensuring point-in-time restores for every immutable backup while reducing storage space. Customers can also leverage Retrospect's filtering ability and backup transfer policies to perform complete system backups on-premise and then transfer only the critical documents from that backup into an immutable backup in the cloud. Immutable backups offer a secure workflow for protecting any data that is too important to be lost to ransomware.
Microsoft Azure and Google Cloud Storage provide only per-bucket/container retention policies, so we have white papers solutions for them as well as step-by-step guides in the link below.
See retrospect.com/ransomware.
Retrospect Backup 18 and Retrospect Virtual 2021 include a long list of other features, including security reporting, geo tracking, cloud data protection, and broad platform support updates like VMware 7.0 and Windows Server 2022 Preview.
Cloud data protection is a particularly nice addition. Retrospect Backup 18 can protect cloud storage, backing it up on-premise or to a different cloud storage provider and integrating with the rest of the toolset, like filtering and scheduling. We use it internally for protecting our cloud storage, including all of the website assets but excluding our daily software build folder, with incremental on-premise backups.
---

Website Redesign
Along with our product launch, we redesigned our website at retrospect.com. The last major redesign was in 2016, detailed in "How we built a modern, responsive Retrospect.com". We iterated on that design, such as adding testimonials to the homepage above-the-fold. But the site was due another redesign, and we're really happy with the results.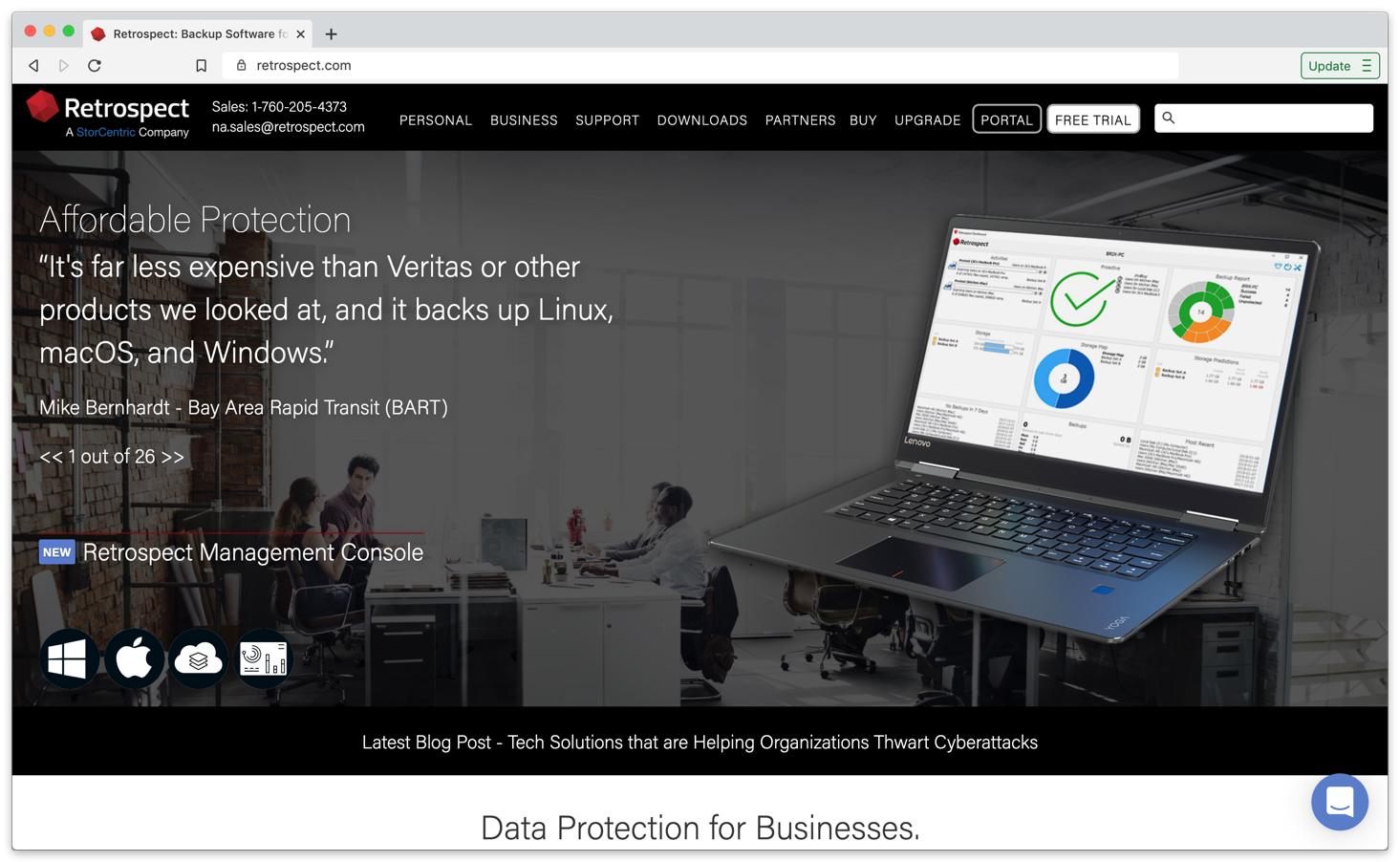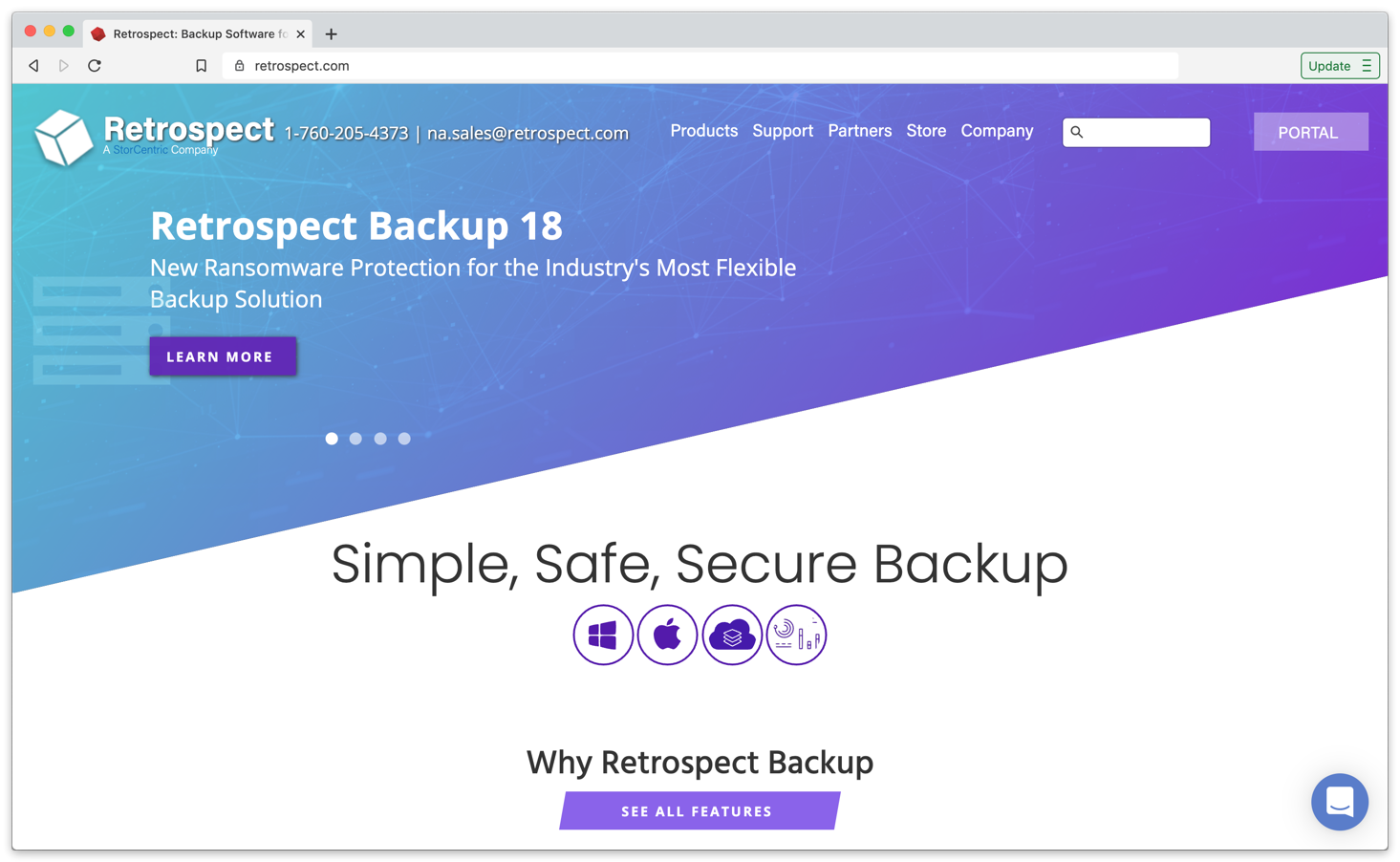 ---

Team
The Retrospect Engineering team did an outstanding job this release. We juggled multiple products during the release cycle, with moving timelines and shared features, but as usual, the team hit the deadline with a solid release that will help customers protect more data in better ways.