June 25 2011

blog.data.visualize()

This blog's sidebar got a little fancier today: sparklines!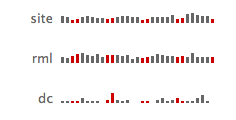 Inspired by infosthetics's google adsense sparklines post, I've added a couple interesting streams of data to the sidebar, both from this website and from my iOS App Store apps. Sparklines are an excellent visualization for conveying a large amount of information in a small space. Here's what I display now:
site: bdunagan.com blog visits per day (Google Analytics)
rml: Remind Me Later downloads per day (Appfigures)
dc: Dollar Clock downloads per day (Appfigures)
I'll walk through how I get the data from those sources into sparklines on my blog.
Getting the Data
First, I needed to get the data from its original location to my blog's server, in a form Javascript could easily find and read. Using Ruby, I extract the data from its service and then write it in JSON to a local file on my web hosting server.
The site data comes from Google Analytics. Getting data from Google is a bit complicated due to its adoption of OAuth. To access Google Analytics information, I wrote a Ruby script leveraging Garb, a great gem from Viget.
The app data comes from Appfigures. Their API access is based on credentials, but SSL is always required. Below is the Ruby script I wrote to fetch that data.
Displaying the Data
Second, I needed to visualize the data. I've been looking for a lightweight graphing library ever since I wrote my post about measuring design changes. For that chart, I used Excel and Acorn. It was slow, painful, and manual. No fun at all.
I asked a friend at LinkedIn for recommendations, and he pointed me to Raphael, an excellent open source tool written in Javascript. I used a higher-level version of the tool called gRaphael.
Infosthetics's sparklines used color to give context to the data: black bars for weekdays this month, dark gray bars for weekends this month, light gray bars for weekdays last month, and a single red bar for today. Small but data-rich. I tried to bring a little of that context to my sidebar's sparklines by coloring the weekends in red but the weekdays in gray. Below is the Javascript code that reads the generated text files and creates the graphs:
These scripts are also available through my GitHub repository.