December 17 2016

Deconstructing Flora Tea from Tea Forte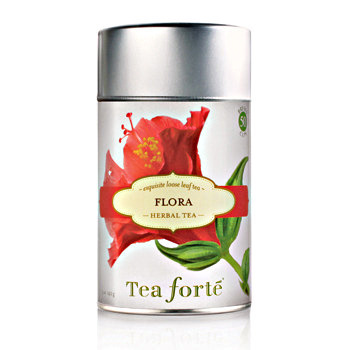 I discovered Tea Forte's Flora Tea at Coupa Cafe, a popular coffee shop in Palo Alto. That was in 2003, thirteen years ago. It was the first tea I found that was caffeine-free, that tasted just as good over ice as brewed hot, and that I never got tired of. I never bothered finding a second.
But in 2015, Tea Forte discontinued the flavor. I tried half a dozen other herbal teas, but none of them matched Flora. So of course, I had to deconstruct the tea and make it myself. I've been drinking my own version for the last year.
Flora was described as "a botanical bouquet of lush tropical hibiscus petals with a swirl of cinnamon and the sweet, invigorating flavor of licorice."
Luckily, not many ingredients: hibiscus, cinnamon, and licorice. I still had a couple canisters of loose leaf Flora to experiment with, so I ordered a variety of these from Amazon. While I've settled on an easy set of ingredients, they weren't obvious at first.
Tea Infuser: I use the OXO Good Grips Twisting Tea Ball. It's a good size for these ingredients.
Hibiscus: I order a 1kg bag of whole hibiscus flowers from Amazon. With the OXO infuser, I don't need to chop these; I just stuff them into the ball. While a large bag is a good price, it costs time. I realized early on that around 10% of the flowers had cobwebs, and so I started picking through the entire bag to sort those out. More time-consuming but it gives me piece of mind.
Cinnamon: I originally thought I needed cinnamon chips (little pieces of cinnamon). Not true. I now get cinnamon sticks from the local grocery store and cut them up into .5cm pieces with a sharp knife.
Licorice Root: Ironically, while I tried to get cinnamon chips, I first purchased uncut licorice root, thinking I could cut it up myself. Don't. Licorice root is very tough to cut. I go to Amazon and find a 100-200g bag of "Licorice Root Cut" or "Licorice Root Pieces" from a trust-worthy vendor.
---
How to Make Flora
What I put in one OXO tea infuser:
5 bits of cut licorice root
5 bits of cut cinnamon stick bits
As many hibiscus petals as I can stuff in
(I keep the ingredients separate until I make each tea.)
When I tried to recreate the taste of Flora, I picked out the individual elements and weighed them. These are the approximate portions. At first, I compared the tastes of the two versions. After a couple days, I accepted that the my own concoction would never taste like Tea Forte's, and I stopped worrying. I still have the canisters of Flora, but they just gather dust. Every day, I have my own version.
I do miss Tea Forte's pyramid infusers though.