May 15 2010

Symbolification: Shipping Symbols

nm -a path_to_executable

When Mac applications are compiled, Xcode has a setting to include or exclude debugging symbols: the "Strip Style". When set to fully strip, the bundled executable (AppName.app/Contents/MacOS/AppName) contains very few symbols, but when all the symbols are included, the executable is a wealth of information. Unfortunately, Xcode's default Release configuration includes all the symbols, leading to shipping applications with lots of symbol information, including method names and even source files. These are accessible with nm. Let's see what we find for Retrospect Client (from my company):

Method Names
Source Files
While interesting in isolation, the information is richer in aggregate. With a quick ruby script, we can rank the apps in /Applications by various metrics:
Top 10 by Methods
Top 10 by Source Files
Apple's products are not in either list because they strip out the symbols for every major application. However, they apparently missed App Store's Application Loader 1.1 (72), codenamed StarGazer:
Xcode Settings Over half of the apps in my /Applications had no symbol information. The developers stripped it out, as described by Apple's documentation on symbolizing crash dumps.
As I mentioned earlier, Apple's default Release configuration does not strip out symbols. In fact, it leaves them all in, regardless of what "Strip Style" (STRIP_STYLE) is set to. The culprit is "Deployment Postprocessing" (DEPLOYMENT_POSTPROCESSING). When not enabled, Xcode ignores the setting for "Strip Style". Apple describes this "Deployment Postprocessing" option in Xcode Build System Guide: Build Configuration and further in Xcode Project Management Guide: Building Products.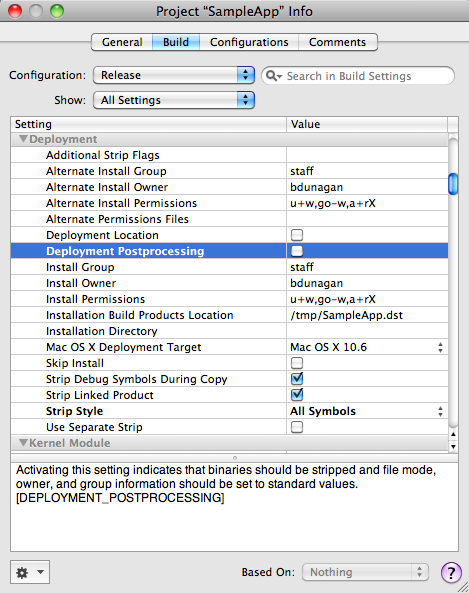 I wrote a quick sample application in Xcode and used the default Release configuration to generate the following dumps from nm:
No symbols are stripped (Xcode's default Release configuration)
Debugging symbols are stripped
Non-global symbols are stripped
All Symbols are stripped
Ruby Script To generate the statistics for the apps in /Applications, I wrote a short ruby script: