November 10 2008

Cocoa Tutorial: Source List Badges, Part 2

2010-01-25 Update: Perspx has a far better implementation of source list badges as part of his PXSourceList project.

So close but not quite. My original post on source list badges contained code that produced almost the desired result. First off, Ken Orr pointed out that the correct font is Helvetica. That fixed the font, but look at the colors in the screenshots.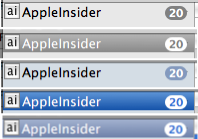 Clearly, the final image just looks wrong. The badge's text color is bright blue, rather than subtle blue. I couldn't figure out how to identify a defocused NSTableView last time, but tonight I finally found the correct call at CocoaDev. It utilizes NSResponder to see whether the NSTableView is in focus or not. So that enabled me to fix the color issues. Check out the actual implementation below and feel free to use it wherever.